CPC5400
CompactPCI Packet Switching Backplane compliant
8 Gigabit Port (10/100/1000) Switching Platform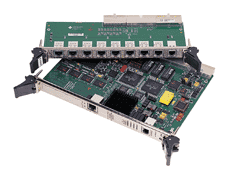 The CPC5400 is robust, flexible, full wire speed Layer2/Layer 3 10/100/1000 Ethernet switch that is compatible with both normal CompactPCI® and 2.16 backplanes. Featuring eight Gb TX ports, it is designed to used as either a high speed interconnect between devices in a chassis or as a core switch in a fault tolerant cluster of embedded systems..

Developers of wireless, IP telephony, broadband access, public safety, defense and high availability systems are continually seeking increased system bandwidth, performance and reliability. The combination of the IPnexus CPC5400 and PICMG® 2.16 deliver dramatic improvements in these areas. Users can realize performance of up to 16 times that of current PCI architectures. The PICMG 2.16 standard offers OEM system developers and integrators the option of sending all Ethernet signals through an industry standard midplane or to the rear transition module for distribution to external devices.

Coupled with comprehensive switching and high availability features, the CPC5400 raises embedded design performance to a new level. The CPC5400 is the latest addition to the most complete and capable line of embedded Ethernet switching products in the industry.

The CPC5400 supports a long list of features including 802.3AD Link Aggregation, 802.1q VLANs, and 802.1p QoS/CoS that ensures priority traffic receives the handling it requires. The switch can be deployed in a fully redundant, non-blocking network that prevents single points of failure from halting network traffic.
Features/Benefits
| | |
| --- | --- |
| Carrier-Grade 8 Port (10/100/1000) Switching Fabric | Interfaces with other devices via CompactPCI® Packet Switching Backplane, rear panel I/O connector board or front panel |
| PICMG® 2.16 Compliant | Compliant with new PICMG 2.16 CompactPCI Packet Switching Backplane standard |
| Wire-Speed Layer 2/Layer 3 (IP) Switching | 16 Gbps switching speed (over 12 million packets/sec with latencies of less than 4 micro sec) ensure packets get switched, not dropped |
| Layer 4-7 Filtering | For increased security and improved packet classification |
| PMC/PPMC Site for Flexible I/O Options | Allows for the integration of a wide variety of industry standard co-processor or WAN connectivity modules |
| Link Aggregation and VRRP | Increases network speed and availability |
| Support for IEEE 802.1p Class of Service | Ensures delay sensitive traffic receives the priority it requires |
| Easy to Use 802.1q VLANs | Lets you create virtual channels that span your entire network |
| Prevents Broadcast, Multicast and Unicast Storms | Uses threshold detection and suppression to keep network bandwidth available |
| No Configuration Required | Simply install additional blades in your chassis to increase switching capacity and network performance. Setup information provided via embedded FTP, TFTP and DHCP servers |
| On-Line Integrity Checks | Eliminates latent failures for Non-Stop Networking™ |
The CPC5400 has been specifically designed to make embedded system integration tasks easier, so your projects can get to market sooner. It comes with a potent scripting language, called LUA, that can be used to easily change switch configuration/behavior, attached client setups, fail-over rules, etc., based on SNMP traps, network events or system configuration/topology changes.
The CPC5400 maximizes network performance and flexibility. It can be used as a stand-alone switching solution, coupled to other switches for greater port capacity, or used in a fully redundant, fault tolerant fashion. When attached to two CPC5400s, devices with dual Ethernet ports can be connected to one or both switches. If a link, PHY or switching node fails, data can be re-routed to an alternate path, maintaining network connections.
Designed with the utmost regard for reliability, the CPC5400 maximizes network uptime by continuously checking its health. If a problem is detected, the switch will de-assert all links, signaling the attached devices to use another route. The replacement unit can obtain all of its operational and configuration information from the other CPC5400 or an external manager, making change-out of failed modules a simple matter of sliding one blade out and replacing it with a new one. The new unit "clones" its setup from the configuration stored on the survivor. The CPC5400 has no active components on its rear panel I/O cards, ensuring failed units can easily be replaced without disturbing cables or other blades in the chassis.
The CPC5400 is ideal for demanding network applications. Each blade "learns" and caches up to 8k MAC addresses in its filtering database and sustains full wire speed data rates on all ports with its 16 Gbps switching fabric, eliminating congestion in even the busiest environments.
The CPC5400 protects investments for the long term with easy FTP/TFTP updates to platform flash memory. System software is available through downloads from our Web site (www.pt.com), greatly simplifying or eliminating the need for dedicated on-site network administration.
The CPC5400 continues Performance Technologies' long tradition of offering high-availability, fault tolerant solutions for the telecom and data communications industries.
Specifications:
Internal Switching Capacity
16 Gbps, non-blocking full wire speed switching fabric
Latency
<4 micro sec
Base Configuration
8 Gb (10/100/1000) TX ports
Breakout Options
Up to 8 rear panel RJ-45 connections or 10/100/1000 links over the CompactPCI Packet Switching Backplane
CompactPCI Hot Swap Support
More robust with our exclusive auto configuration replication
Frame Processing
Store and forward, Layer 4-7 packet filtering
MAC Addresses
8k
VLANs
Up to 16 concurrent IEEE 802.1q VLANs
Spanning Tree Extensions
Fast Port and Fast Uplink ensure rapid reconvergence
QoS/CoS
via IEEE 802.1p, 4 priority queues
GVRP/GMRP
Automatic VLAN and Multicast registration preserve bandwidth
Virtual Redundant Router Protocol (VRRP)
Increases network availability
Port Mirroring
Attach a network probe on any segment
Product Updates
via FTP/TFTP
DHCP/BootP Client Support
Automatic IP address assignment
DHCP/FTP/TFTP Server with 2MB Flash File System
Enables other subsystems in the chassis to load specific configuration information on a slot-by-slot basis
LED Indicators
Link, Activity, Speed, System Status, Fault and Hot Swap
Power-up Diagnostics and On-line Integrity Checks
Selectable by SNMP or CLI
Standards
IEEE 802.3, 10BaseT, 100BaseTX, 1000BaseT
IEEE 802.3x, Flow Control
IEEE 802.1q, VLAN Tagging
IEEE 802.1d Spanning Tree
IEEE 802.1d-1998 Bridge Extensions (802.1p)
IEEE 802.3AD Link Aggregation
Management
RFC 1157 SNMP
RFC 1213 MIBII
RFC 1757 RMON groups 1, 2, 3, 9
RFC 1493 Bridge MIB
RFC 1643 Ether-like MIB
RFC 2674 Bridge Extensions MIB
IEEE 802.3AD Link Aggregation MIB
PTI Enterprise MIB
CLI via out-of-band RS-232 and out-of-band Ethernet management port
Telnet
Power Requirements
TBD
Environment: Operating Temp
32-135º F (0 to 55º C). Relative Humidity: 10-90%, non-condensing
Agency Certifications
UL 1950, CSA-C22.2 No. 950 93, CE, FCC Class A (Part 15, Subpart J), ETSI EN 300 386, NEBS Level 3 friendly
MTBF
> 100,000 hrs per Bellcore TR-NWT-00032 Issue 5 @ 30ºC