CPC348 Eight Port CompactPCI WAN Communications Adapter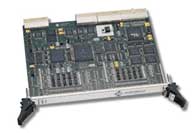 Performance Technologies' CPC348 Intelligent Synchronous WAN Communications Adapter provides eight high performance synchronous/serial channels for WAN connectivity. The adapter is ideally suited for use within SS7 nodes, or as an interface to T1 routers, DSU/CSUs, frame relay access devices, high speed modems, or other high speed communication devices.
The CPC348 plays a significant role in making Performance Technologies a full-line supplier of innovative telecommunications and networking products that enable the convergence of wireline, wireless and next generation Internet Protocol networks.
Features
Multipurpose intelligent WAN communications adapter for 6U CompactPCI systems
For network connections within SS7 nodes, as an interface to T1 routers, DSU/CSUs, frame relay access devices, high speed modems, or other high speed communication devices
Eight high speed channels
Capable of sustaining 2 Mbps per port for the variety of protocols used in synchronous data communications
16MB of shared DRAM Memory
¡@
Handles onboard protocol processing and heavy traffic loads without compromising system performance
Based on the Motorola MPC860MH PowerQUICC® Processor
Provides high-speed, onboard protocol execution with minimal system utilization
V.35, RS-422, and RS-232 line interfaces
For various communications applications
Front and Rear panel I/O
Rear panel I/O through J3 & J5, front panel I/O through 80 pin D-connectors
Hot Swap Support
Complies with the latest PICMG Hot Swap Specification
Integrated WAN Communications Software
PTI's WAN Protocol Suite includes HDLC, Frame Relay, LAPD, X.25, and PPP
Broad Operating System Support
Solaris®, Windows NT®, Linux®
Hardware Features
The CPC348 is designed as a fully programmable communications subsystem capable of sustaining high data rates for a variety of protocols used in synchronous data communications.
The architecture of the CPC348 capitalizes on the leading edge capabilities of the MPC860MH, Motorola's PowerQUICC®-based datacomm processor. This device is specifically designed as a very high performance, specialized communications controller.
The CPC348 adapter enhances overall system performance by utilizing the onboard intelligence and large 16 MB DRAM array dedicated exclusively to the PowerQUICC®. This provides adequate memory space for accepting WAN application programs upon boot, and for data storage during program execution.
Critical to any fault tolerant/HA system is the ability to "hot swap" its board level components. The CPC348 fully complies with PICMG hot swap specifications to the HA level. 80mm rear transition modules for the CPC348 improve reliability by being fully passive (no active components).
Extensive Software Support
With a well-defined API, the integrated protocol suite from Performance Technologies reduces time to market by eliminating unnecessary development time at the hardware/protocol level. The protocols for our standard WAN hardware products enable development engineers to proceed directly to integration and application development efforts.
Performance Technologies' comprehensive suite of WAN communications protocols provides complete WAN connectivity solutions for Frame Relay, HDLC, LAPD, X.25, and PPP protocols. Operating system support includes Solaris®, Windows NT®, and Linux®.
For the Solaris® environment, our ComLink™ Communications Software provides both a transparent link to all SunLink® protocols, as well as a documented set of driver primitives for developing synchronous/serial related applications.
Specifications
Performance
8 Ports @ 2 Mbps bi-directional,
simultaneously, sustained 8 Mbps max line speed
Processor
50 MHz Motorola MPC860MH PowerQUICC® (4 and 8 port)
33 MHz Motorola QUICC® (8 port)
Memory
16 MB shared DRAM
Bus Structure
CPCI Revision 3.0 compliant, including all PCI required configuration registers and protocols
Physical Interface
RS-232C/DB25, RS-449/DB37, and V.35/M34
Modem Control
CTS, DSR, DTR, DCD, RTS (also RI, LT for V.35)
Protocol Support
HDLC, Frame Relay, LAPD, X.25, and PPP
Compliance
All currently applicable ANSI/ISO standards
Specification Compliance
CPCI Revision 2.1 compliant, including all PCI required configuration registers and protocols
PICMG 2.1 Hot Swap compliant
MTBF
> 400,000 power-on hours (POH)
Power
11 watts maximum (2.2 A @ +5 V)
Dimensions
6U Eurocard form factor
Temperature
Operating: 0¢X to 50¢X C (32¢X to 122¢X F)
Non-operating: -20¢X to 80¢X C (-4¢X to 176¢X F)